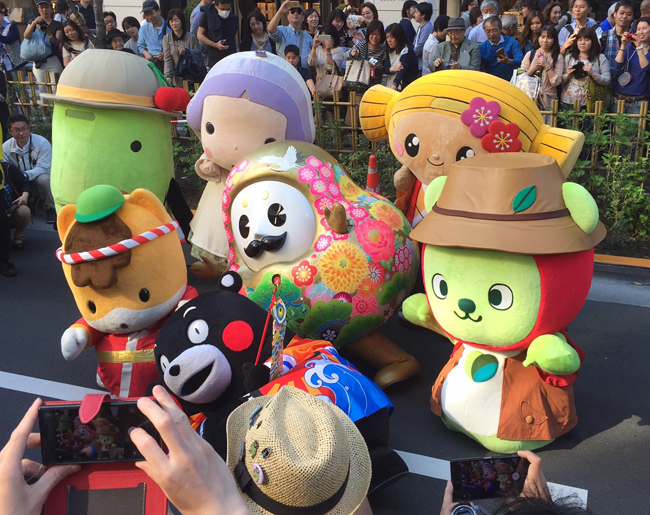 Yesterday various yuru-chara mascots from around Japan were to be found on Tokyo's Nishi-Ginza Dori for the 11th annual Willow Festival, a festival named after the trees that line the street.
The best-known of the characters in attendance was the ubiquitous Kumamon, who soaked up most of the attention as he paraded around in a traditional robe.
Kumamon was joined by fellow bear, Arukuma, the official mascot of Nagano prefecture. He enjoys walking and has a variety of different hats.
Also at the event was the minimalistic Kitekero-kun, the "hospitalitiy section manager" of Yamagata prefecture, pictured here without his trademark rolling suitcase.
Gunma-chan and Mito-chan, pictured below, have a lot in common. They are both tiny and are named after their hometowns. Gunma-chan has been around since 1983 (since when he has evolved from a blue-maned horse into his current incarnation), and won the coveted Yuruchara Grand Prix prize in 2014. Mito-chan, of Mito City, Ibaraki, has only been around for four years and is modelled on the television period drama character, Mito Komon.