Here's another bumper crop of oddball mascots that I encountered at the World Mascot Summit in Hanyu, Saitama.
Igaman-chan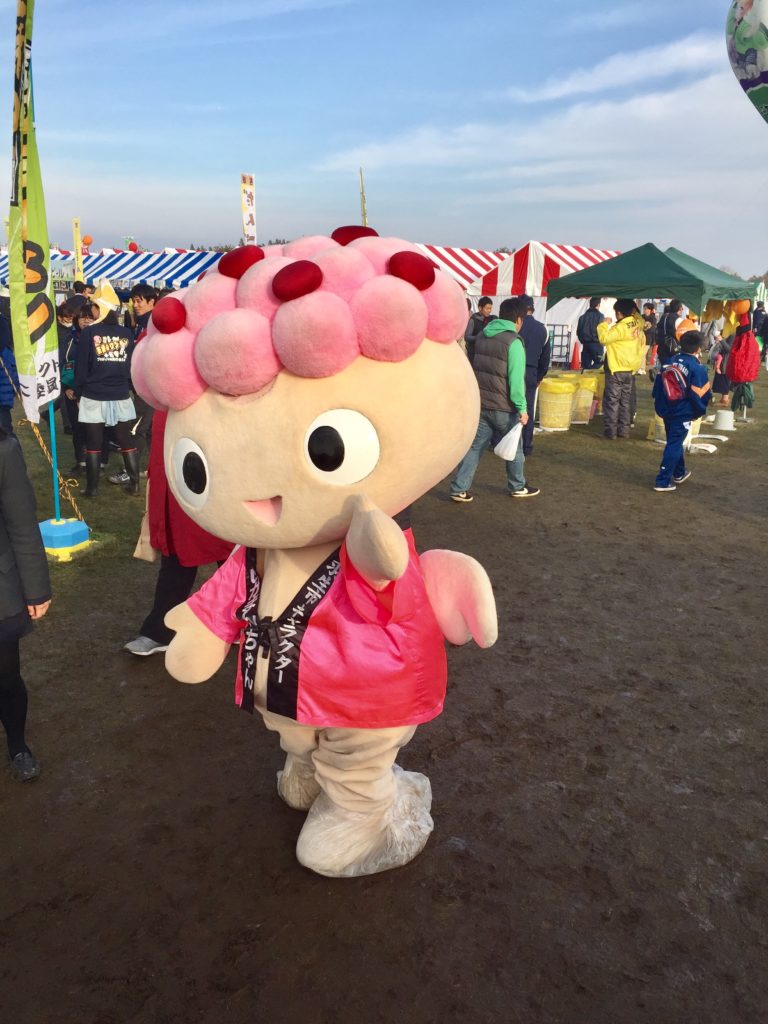 First up, Hanyu City's very own Igaman-chan, a mysterious fairy with a distinctive pink haircut. Igaman-chan is a local favourite and, along with Mujinamon (a brown woodland creature with a leaf on his head, who I didn't spot), is one of the official mascots for the event.
Funadon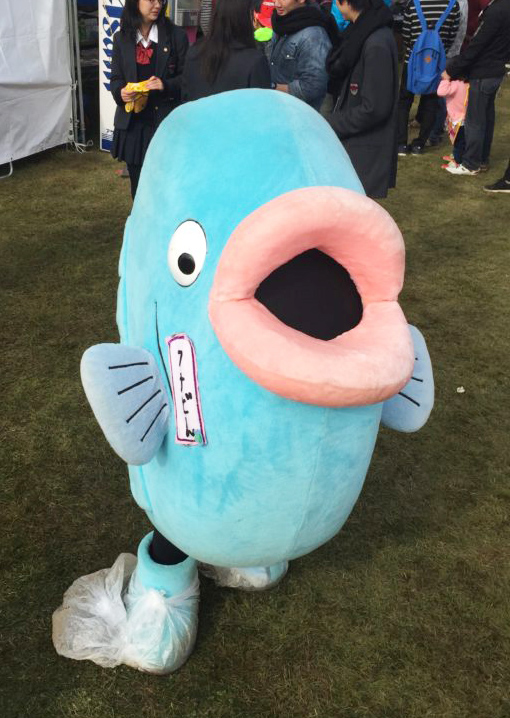 Hanyu City seems to have eight mascots, which seems a bit excessive. The runt of the litter is poor old Funadon the fish, pictured below. He doesn't seem to have been blessed with any discernible personality or special party tricks, and looks like he desperately needs to be thrown back into the river.
2Uyakisoban and Momii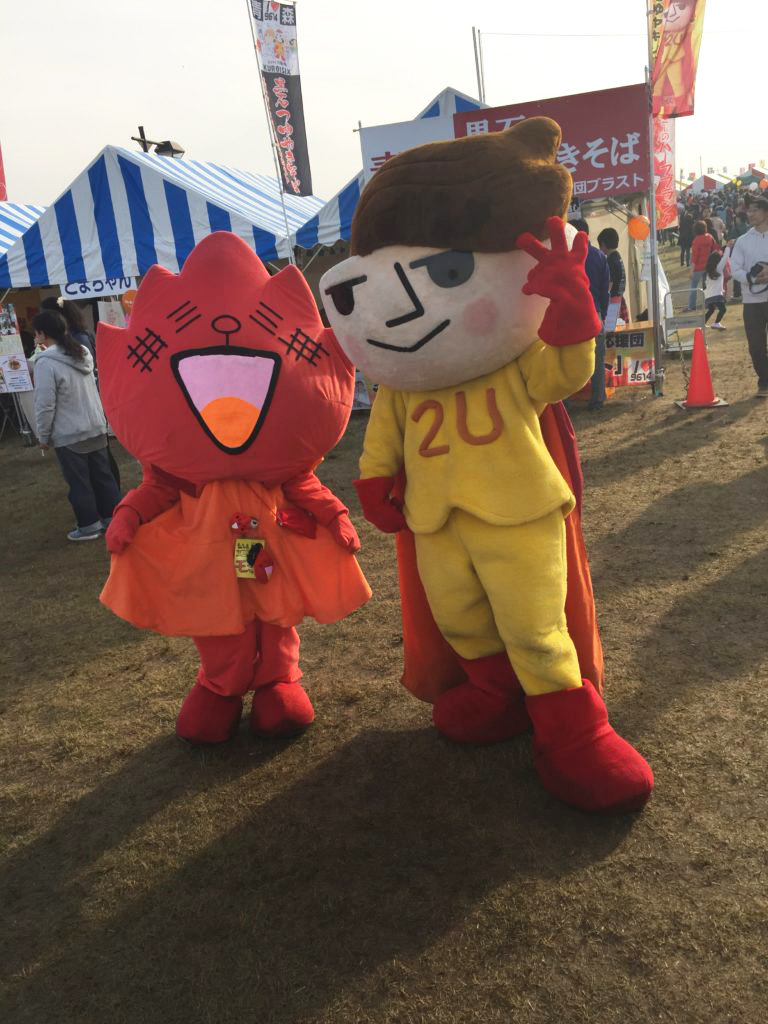 2Uyakisoban is about as suave and stylish as you be for a man with a bowl of fried  noodles for a head. His female companion, Momii, is smoking hot (literally – she's an anthropomorphic flame).
Yoshiming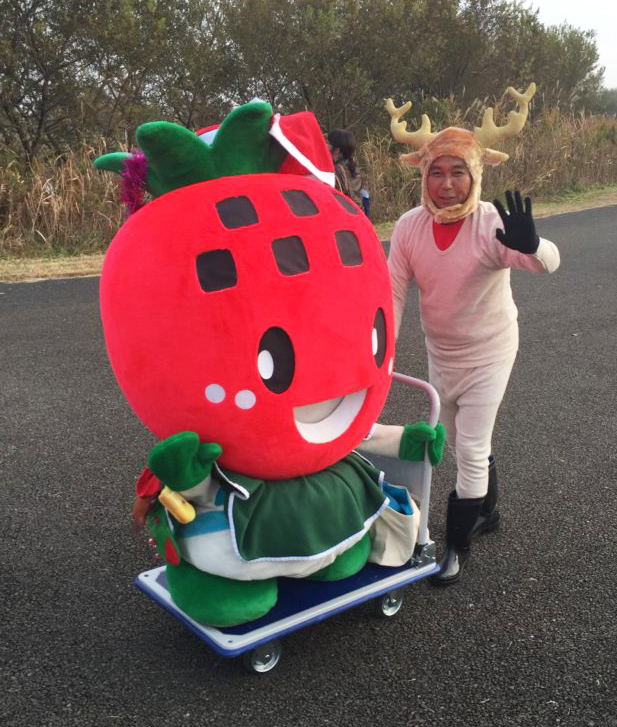 Yoshiming is a tiny strawberry from Yoshimi town in Saitama. As with Funadon, whoever's inside the costume must be absolutely tiny. I spotted her being carted away by a man in a (presumably not official) costume resembling Nara's Sento-kun. Hopefully she won't end up as dessert.
Na-chan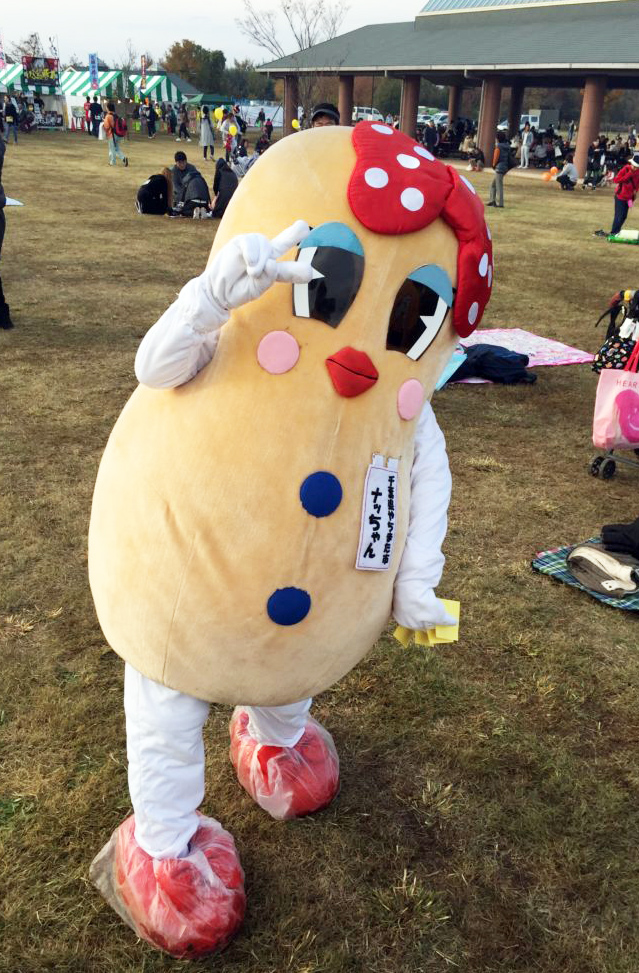 Na-Chan, an alluring peanut from Yachimata City, is usually seen as part of a double act with her beau, Pi-Chan, but he was nowhere to be seen. I hope this doesn't mean there's trouble in paradise.
Tom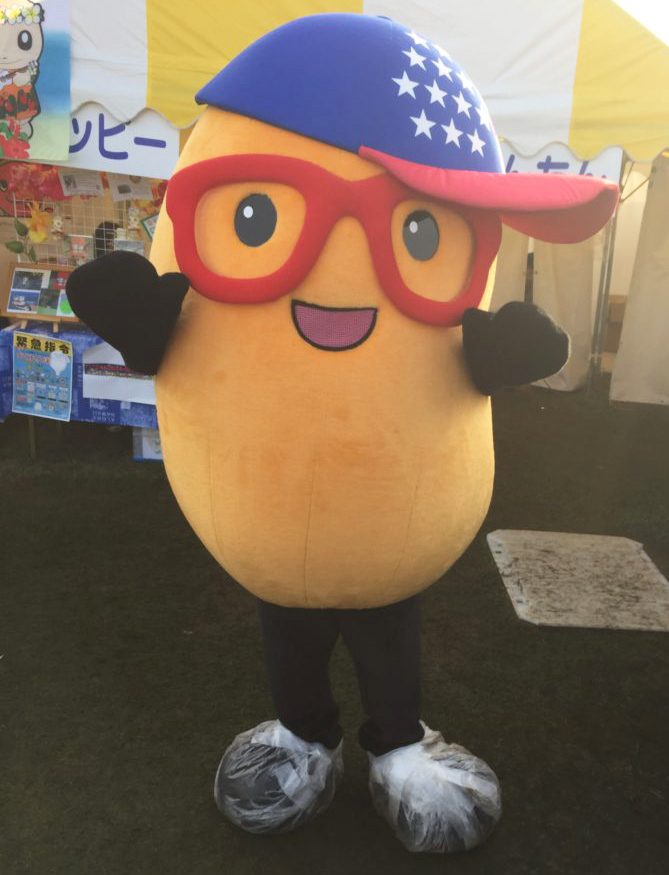 Although this event is called the "World Character Summit", barely any of the yuru-chara present are not Japanese. In fact, half of them seem to be from Saitama!
Tom is one exception- he's the mascot for the American Center of Japan.
If Na-Chan does need a new boyfriend, she could do worse than Tom. Although he's actually a jelly bean, he at least looks a bit like a peanut. A jellybean was chosen because their variety of colours and flavours represents America's diversity.
Misato No Mizumo
This impish fella knows how to strike a pose. It's Misato No Mizumo, a water fairy from Misato Town in Aichi.
Kamuten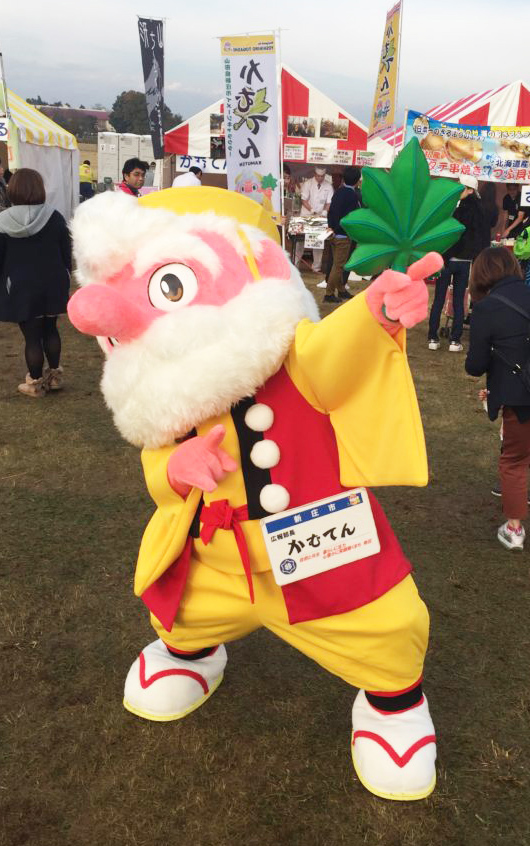 Kamuten is a Papa-Smurf lookalike from Shinjo City, Yamagata. For some reason, I feel more awkward approaching mascots for a photo if they look like people.
Hoshi No Aman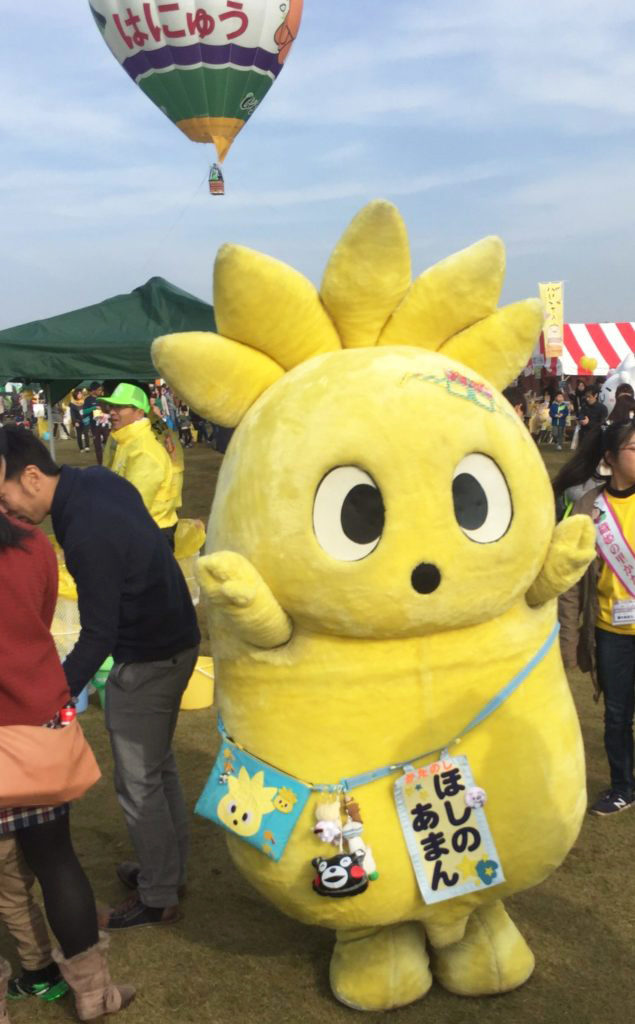 Aman's distinctive plumage looks like a star, to represent the star festival in his hometown of Katano. I find it endearing that his face is frozen in a constant state of bewilderment.
Muuto-Kun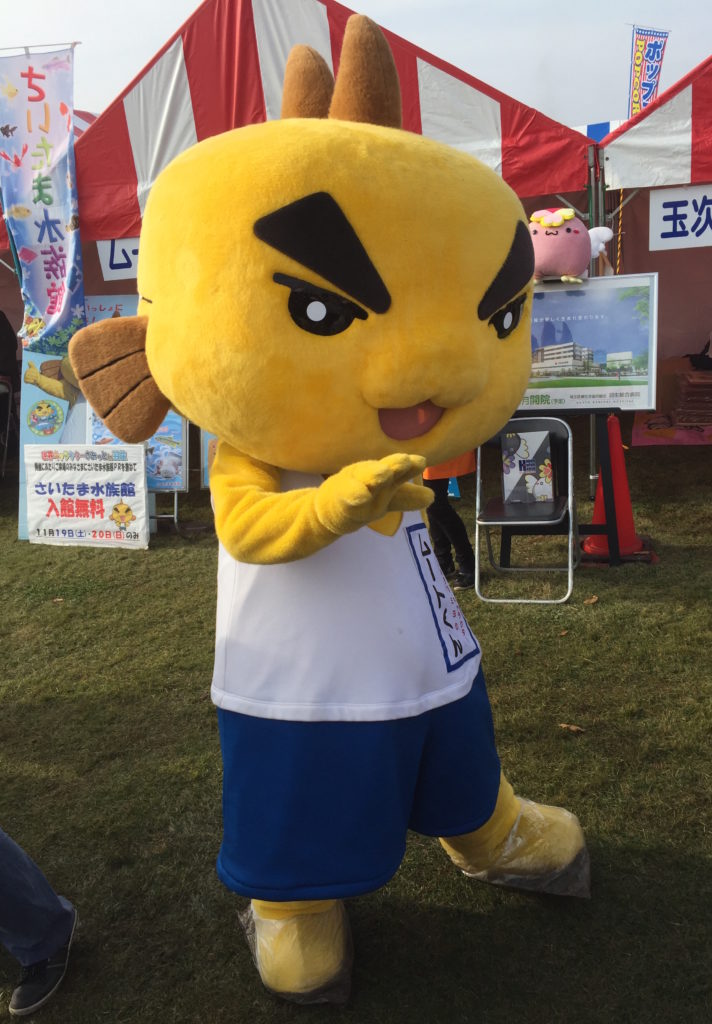 Here's a yuru-chara I wouldn't want to mess with. This streetwise tough-guy is Muuto-kun, and he's the mascot for Saitama aquarium. Don't call him fish-face!
Sarupu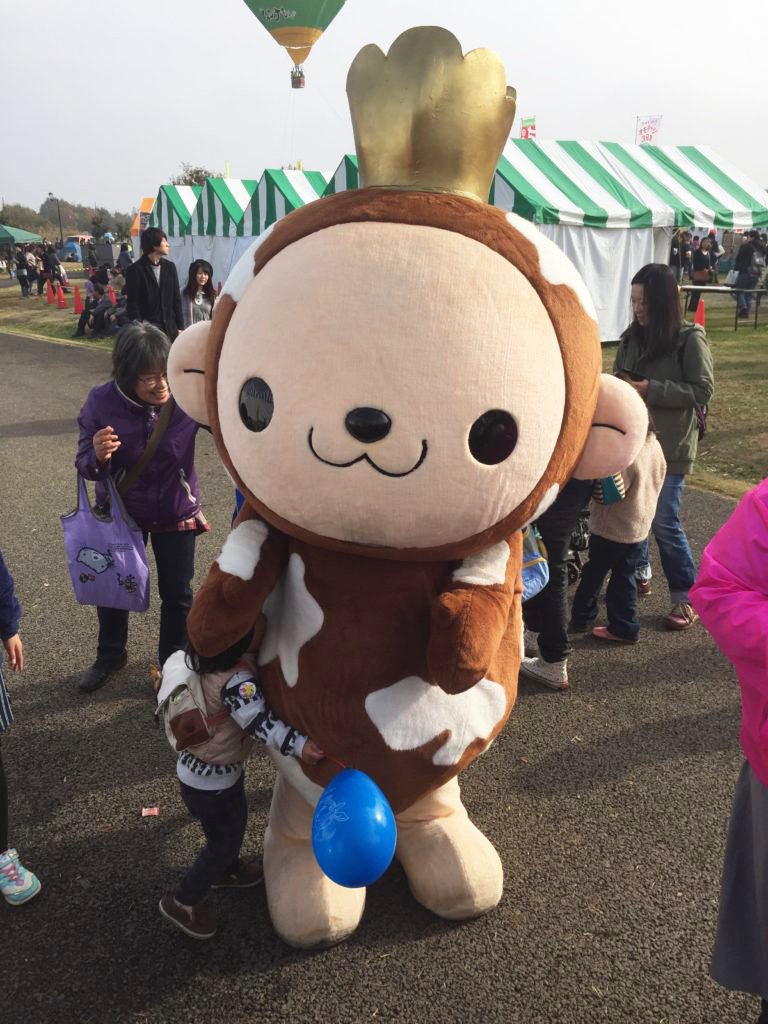 A monkey from Sarufutsu Village in Hokkaido, Saruppu apparently weighs the same as 90 scallops.
Kyoro-chan and Tororin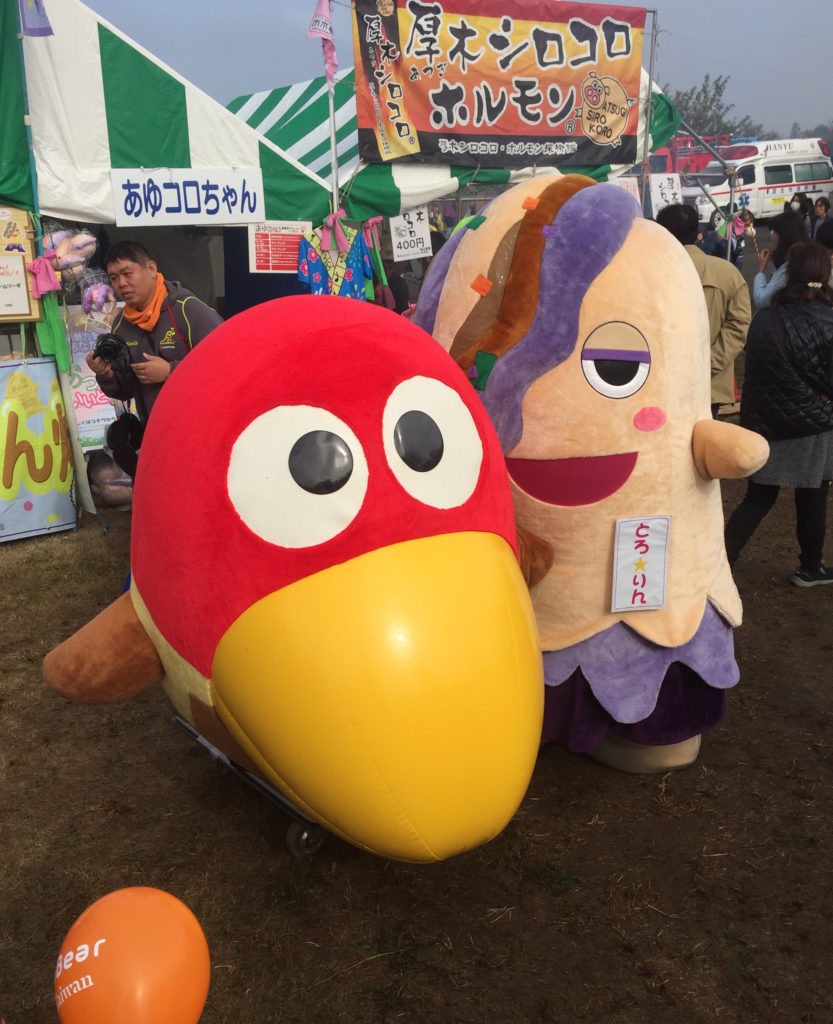 On the left we have Kyoro-chan, the classic mascot for Morinaga's Choco-Balls. On the right we have the Kasukabe Yakisoba mascot, Tororin (who looks much like Phil Oaky of the Human League). Together they make a meal fit for a broke university student.